NUMB
From ThorxWiki
Nemo's Ultimate Media Box
A linux box sitting in the stereo cabinet which performs the basic duty of
Play any media I throw at it.
That is:
live TV (ie, a frontend to a PVR backend such as Freevo or MythTV)
music (from local LAN shares (nfs/smb/other) or direct internet radio/streaming (podcasts, etc)
video (LAN / internet streaming (youtube/vimeo/etc))
pictures (slideshow from LAN / internet (flickr/etc))
games (MAME (and maybe UAE and other emus etc?)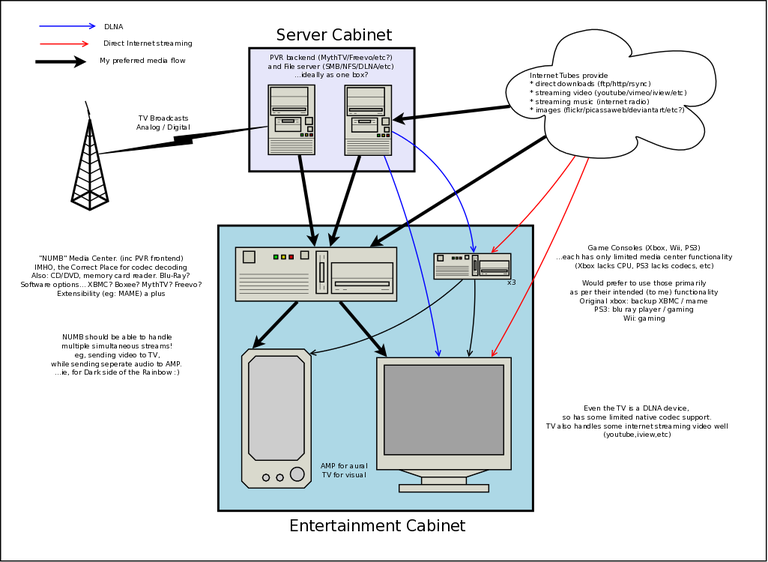 Note: a future NUMB box may be named 'yacht' in accordance with NamingScheme
---
archive alert
below is 2009 archive of page. Above is 2011 reworking of idea
Nemo
Nemo's Universal Media Box
This is the ultimate goal of which NIPL, NUDI, CDIA and Genres on this wiki are merely a part of.
The aim is to have a settop box that acts as the following (at least)
It should also be in a cute/cool case.
A MS Xbox would be a nice form, if I wanted VCR-sized, non-rackmountable box. Also unlikely to support PVR capabilities given the hardware.
A modified Apple Colour Classic would be nice. But needs to be modded ALOT. (shoehorn a Cube and a flatscreen moniter inside - provides for some portability). Would he nescessary video input/output cards be possible however? Such a box might still be nice to setup though :)
An Apple Xserve would be very nice, for a rack-mount. CD drive would need changing to a DVD drive, as well as suitable graphics cards and soundcard. Would PCI and AGP slots be an issue? How about noise? Overall, this looks like an ultrasweet solution. See references at http://www.apple.com/xserve/specs.html
<Gaz> I found this in a Lindows.com semi-spam. Don't know how it stacks up against anything else you've got, but it's pre-built. MiniMediaBox
Other projects
Other projects with similar goals, in part or in whole:
Useful Web Resources
You can get away from using FreeDB if your CDs support CD-Text.
---
NUMB is in accordance with NINS